Unsere Arrangeure
In unserem Verband sind viele aktive Musiker, die sich dem Erstellen von Barbershop Arrangements verschrieben haben. Nachfolgend findet ihr eine Übersicht der Arrangeure, eine kurze Beschreibung und Kontaktinformation. Unsere Arrangeure freuen sich auf eure Anfrage! Wenn ihr auch auf dieser Seite erscheinen wollt, oder Hilfe beim Arrangieren benötigt, meldet euch bei Kevin Köhl (Kevin.Koehl@barbershop.de).
Ansprechpartner für (werdende) Arrangeure
Wer bereits Arrangeur ist oder anfangen möchte zu arrangieren, wer einen Arrangeur für sein Quartett oder seinen Chor sucht, wer Fragen zu den BinG!-Arrangeuren, ihren Arrangements oder an Kevin hat, der kann direkt mit Kevin in Kontakt treten unter: kevinkoehl36@googlemail.com.

Wer ist Kevin Köhl?
Kevin ist einer der führenden Arrangeure des BinG!-Verbandes und kann jeden noch so kleinen Tag im Detail musiktheoretisch analysieren. Er singt in zwei Quartetten Bariton – bei 4plus und bei Chord Cracker – und arrangiert seit mehr als zehn Jahren sowohl für diese als auch für andere Quartette deutsche und englische Stücke. Er ist 1995 geboren und seit 2014 Mitglied bei BinG!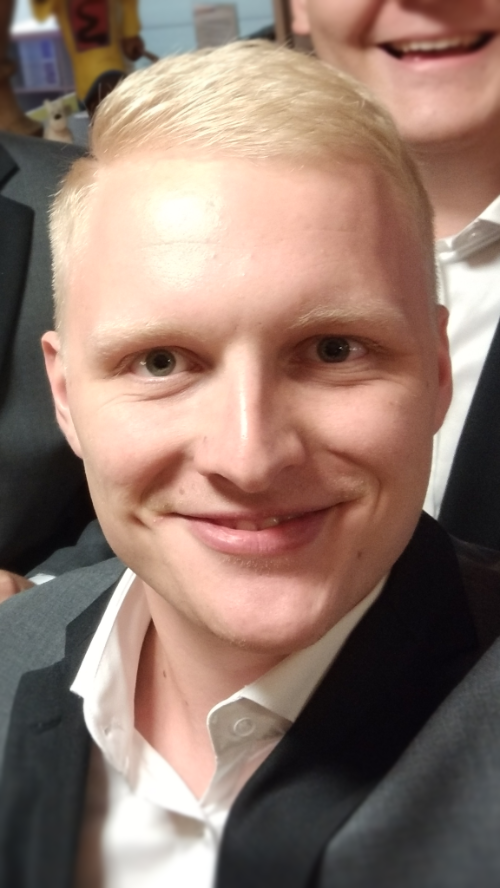 Liste der deutschen Arrangeure
Birgit Kayser, *19.4.1952
aktive Barbershopperin seit 1993: Chor- und Quartettsängerin, BinG!-Vorstand, Arrangeurin, Harmony College Dozentin, aktuell Mitarbeit beim BinG!-Polecat-Projekt.
Barbershop-Arrangements seit ca. 20 Jahren, Teilnahme am SAI-Programm "Arrange By Mail", Besuch mehrerer Arrangierkurse, Arbeit mit BHS- und SAI-Arranging Manuals, einige Auftragsarbeiten, ansonsten Arrangements meiner Lieblingslieder, meist nicht wettbewerbsgeeignet, dennoch 99% Barbershop – knapp 60 Lieder, davon ca. ¼ englisch, Rest deutsch – nein, ein lateinisches!
Neben den fertigen Arrangements habe ich auch schon angefangene Projekte in der virtuellen Schublade, außerdem eine riesige Ideen-Liste mit youtube-Links. Immer wenn ich einen geeigneten Song im Radio höre, kommt er auf den Zettel.
Mehr über mich und meine Arrangements hier: www.4ofb.jimdo.com, ich freue mich auf euren Besuch!
Felix entdeckte 2008 den Barbershop für sich, und kommt seitdem nicht mehr davon los. Es ist eigentlich eher noch schlimmer geworden. Erst war es bloß Singen, mittlerweile versucht er sich auch im Dirigieren, Arrangieren und Instruieren.
Er ist langjähriges Mitglied beim Ersten Kölner Barbershop Chor, und war in mehreren erfolgreichen Männer- und gemischten Quartetten tätig, z. T. auch in unserem holländischen Nachbarverband.
Wenn er nicht singt, lebt er mit seiner Frau und Tochter in Aachen.
E-Mail:
kevin.koehl@barbershop.de
Hi!
Ich bin Kevin und freue mich riesig, als Ansprechpartner der Arrangeure zu fungieren! Wenn ihr also Fragen zu neuen oder bestehenden Arrangements habt schreibt einen der Arrangeure oder mich ruhig an. Nun kurz zu mir. Derzeit bin ich 24 Jahre alt und fing schon 2010 mit dem Arrangieren an. Derzeit singe ich aktiv in zwei Quartetten, 4plus und Chord Cracker, was mir einiges an Freude bereitet. In beiden Quartetten übernehme ich den Bari, das macht einfach am meisten Spaß. Hauptsächlich schreibe ich Arrangements für meine Quartette, aber auchauf Anfrage oder wenn mir danach ist. In meinen Arrangements versuche ich zu experimentieren und lege mich nicht auf einen Stil fest, obwohl Barbershop den größten Einfluss hat. Dennoch sprenge ich gerne Regeln und Grenzen. Kurzum: es ist für jeden etwas dabei. Solltest du Interesse an einem meiner Arrangements haben oder ein maßgeschneidertes Arrangement für den Quartett suchen, schreib mir doch eine Mail. Eine Liste der bestehenden Arrangements findest du unten. Ich freue mich!
Kevin
Barberhop-Arrangements
Always on my Mind – medium
mein erstes contestable Arrangement, extrem hoher Bariton-Part vor dem Tag.
Learning Tracks verfügbar und gesungen von Sonny Vande Putte: https://www.youtube.com/watch?v=Lvc9uhR0xsY
Bad Guy – einfach
im Original von Billie Eilish, interpretiert zu einer Sexy-Swing Version. Nicht contestable.
Country Roads – medium
Uptune, nicht contestable.
Learning tracks vorhanden und erstellt von Flerb's Robo Quartet.
Family Guy Intro – einfach/medium
Der Titel sagt alles.
Follow Me – medium
Uptune, von Uncle Kracker, contestable. Gesungen von KARMA Quartett. Version für Frauenchor ebenfalls vorhanden.
Learning tracks vorhanden und erstellt von Flerb's Robo Quartet.
Grace Kelly – schwierig
Großartiger Song von Mika. Lead braucht Kraft in Brust- sowie Kopfstimme. Nicht contestable.
I've No More F**** To Give – medium/schwer (rangy)
Ich liebe diesenSong von Thomas Benjamin Wild Esq. Der Text mag nicht für alle akzeptabel sein, aber das Arrangement hat einen coolen Rhythmus und viele Septakkorde. Außerdem ist die Aussage des Stücks wertvoll. Mach das du magst - egal was andere sagen. In diesem Sinne: Ich finde mein Arrangement richtig cool. Wahrscheinlich niemals contestable.
Let's twist again – einfach
knallender Showopener. Gesungen von 4plus: https://www.youtube.com/watch?v=f1m025sLjyI
Mean 'Ol Moon – medium
kleines, niedliches Swing-Stück aus Ted 2. Nicht contestable.
Learning Tracks gesungen von Antoine Kaisermann.
Old Country Church - medium
Gospel, der schon von diversen Formationen aufgeführt wurde. Nicht contestable.
Perfect – medium/schwer
Eines meiner Lieblings-Arrangements, erstellt für Chord Cracker. Nicht contestable.
Learning Tracks gesungen von Antoine Kaisermann.
Shine on me - medium
Ein Lied von Buddy Stuart aus der Serie "Breaking Bad". Nicht contestable
Take on Me – einfach
Klassiker.
There's No Business Like Show Business – medium
Showopener aus dem Netflix-Film Sandy Wexxler. Nicht contestable.
This Old House/When the Saints go marching in Medley – schwer
Gesungen von Ernie Haase & Signature Sound. Solo in jeder Stimme. Nicht contestable.
Learning Tracks gesungen von Antoine Kaisermann.
Tribute – medium
Basierend auf Tenacious Ds song. Nicht contestable.
Winter Wonderland – schwer
Weihnachts-Klassiker. Basiert auf der Version von Michael Bublé. Nicht contestable.
Wonderful World (Sam Cooke) – medium
Ein contestable Swing-Uptune. Geschrieben für Chord Cracker.
Learning Tracks erstellt von Antoine Kaisermann.
- Auflistung deutscher Arrangements folgt noch -
E-Mail:
thorstenarrangiert@gmail.com
Hallo, ich bin Thorsten, 37, wohne mit Frau Jules und Katze Rumpel in Leipzig und bin leidenschaftlicher Musiker.
Seit 2016 singe, arrangiere und komponiere ich hauptberuflich für meine Vokalband "Delta Q".
Dem Barbershop gehört mein Herz seit 2010.
Ich bin Tenor aus Überzeugung, und ich liebe es Arrangement-Wünsche im Barbershop- oder ähnlichen Stilen zu erfüllen.
Darum tue ich dies auch verstärkt für mein gemischtes Goldmedaillen-Quartett "SomeSing" und für jeden, der sich das von mir wünscht!
Mein Motto: Je personalisierter das Arrangement, desto persönlicher die Musik.
Sende Deinen persönlichen Wunschzettel einfach an meine E-Mail Adresse (thorstenarrangiert@gmail.com).
Liste an Arrangements (in alphabetischer Reihenfolge):
a cappella
ABBA- Medley
Anekdotenbehindert - William Wahl/ Basta
Bart - Eigenkomposition
Beautiful Things - Tori Kelly
But Beautiful - Jazz-Standard, Bass-Solo
BRD-Medley
Daylight in your eyes - No Angels
Ein Koffer spricht - Kinderlied mit NS-Bezug
Elephant Love Medley - aus dem Film "Moulin Rouge"
Everybody needs Somebody - aus dem Film "Blues Brothers"
Geburtstagsjodler - Margot & Maria Helwig
Happy B - Geburtstagsständchen
Herbstgewitter über Dächern - Reinhard Mey
Ich will nur - Philipp Poisel
I will wait - Mumford and Sons
I won't say I'm in love - aus dem Disneyfilm "Hercules"
Let's find each other tonight - José Feliciano (Reggae-Version)
Komplex - Eigenkomposition
Krieger des Lichts - Silbermond
Männer muss man loben - Barbara Schöneberger
Münchner Freiheit- Medley
NENA-Medley
Proud Mary - Tina Turner
There's a Light - aus der "Rocky Horror Show"
Weinst Du - Echt
Weus'd a Herz hast wia a Bergwerk - Rainhard Fendrich
Winter- Mashup (Loop-Song) - Lied-Mix über Liebe und Kälte
You're welcome - aus dem Animationsfilm "Vaiana"
90er-Medley
Barbershop
On the Sunny Side of the Street - Jazz-Standard
Schön ist es auf der Welt zu sein - Roy Black und Anita
She - Elvis Costello, aus dem Film "Notting Hill"